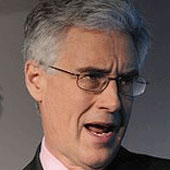 Chairman, Financial Services Authority (UK)
Adair Turner was appointed FSA Chairman in September 2008. He has combined careers in business, public policy and academia.
In January 2008, Lord Turner was appointed Chairman of the Climate Change Committee. He is a Visiting Professor at the London School of Economics and at Cass Business School, City University.
He became a cross-bench member of the House of Lords in 2005. He was Chairman of the UK's Pensions Commission from 2003-05 and of the Low Pay Commission from 2002-06. His book Just Capital: The Liberal Economy was published by Macmillan in 2001.
Until September 2008 Lord Turner was a non-executive Director at Standard Chartered Bank; from 2000-2006 he was a Senior Adviser, Vice-Chairman of Merrill Lynch Europe, and from 1995-99, Director General of the Confederation of British Industry. Prior to that, he was with McKinsey and Company from 1982-95, and between 1992-1995, built McKinsey's practice in Eastern Europe and Russia. He was previously Chair of the Overseas Development Institute.
Lord Turner studied history and economics at Gonville and Caius College, Cambridge, from 1974-78, and he was a college supervisor in economics at Caius from 1979-82, teaching part-time in parallel with his business career.