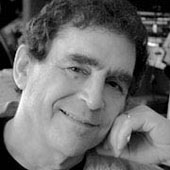 Author of "The World Without Us"
Alan Weisman is the author of "The World Without Us" — and a senior editor and producer for Homelands Productions.
Mr. Weisman is also the author of "An Echo In My Blood" (Harcourt Brace, Inc., 1999), "Gaviotas: A Village to Reinvent the World" (Chelsea Green Publishing, 1998), "La Frontera: The United States Border With Mexico" (Harcourt Brace Jovanovich, 1986) — and "We, Immortals" (Pocket Books, 1979).
They have also appeared in several anthologies (including The Best American Science Writing 2006) — and have been heard on National Public Radio, Public Radio International and American Public Media.
He is Laureate Associate Professor in Journalism and Latin American Studies at the University of Arizona, where he leads an annual field program in international journalism.
Mr. Weisman has been a Fulbright Senior Scholar in Colombia, writer-in-residence at the Altos de Chavón Escuela de Arte y Diseño in the Dominican Republic, the John Farrar Fellow in Nonfiction at the Bread Loaf Writers' Conference — and a contributing editor to the Los Angeles Times Magazine.
Among his radio awards shared with his Homelands colleagues are a Robert F. Kennedy Citation, the Harry Chapin/World Hunger Year award — and Brazil's Prèmio Nacional de Jornalismo Radiofônico.
Mr. Weisman and his wife, sculptor Beckie Kravetz, live in western Massachusetts.