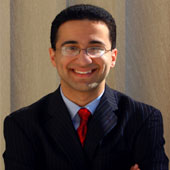 Analyst, Washington, D.C.
Ali Wyne is an analyst in Washington, D.C.
He graduated from MIT in June 2008, with dual degrees in Management Science and Political Science.
While there he founded the Forum on American Progress, a nonpartisan student group that examines American foreign policy. He also established the MIT International Review, the Institute's first journal of international affairs. As a senior he received MIT's highest honor for students, the Karl Taylor Compton Prize.
He has interned for Amnesty International, the Global Strategy Institute, and the Institute for Education, and has served, since 2007, as a research assistant to Graham Allison, director of the Belfer Center at Harvard University.
He is a member of Young Professionals in Foreign Policy and a Next America Fellow at the Center for Strategic and International Studies.
His articles have been published in numerous outlets, including the Boston Globe, the International Herald Tribune, the Financial Times, Foreign Policy, World Politics Review, American Diplomacy, Strategic Insights, and Human Rights and Human Welfare.