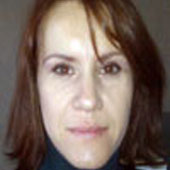 Director, Black Sea Trust for Regional Cooperation, the German Marshall Fund of the United States
Alina Inayeh has been the Director for the Black Sea Trust for Regional Cooperation in Bucharest since 2007. This is a project of the German Marshall Fund dedicated to strengthening cooperation and foster development in the Black Sea Region.
Her expertise lies in Central and Eastern Europe, Black Sea region, Civic Participation, Civil Society, Democratisation, Governance, NGO Development, Electoral and Political Processes in transition democracies.
Earlier, Ms. Inayeh ran the Freedom House office in Ukraine and the NDI office in Russia, with a focus on civic education and political processes.
She has been a leading civic activist in the 1990s in her own country, Romania, and an active promoter of the NGO sector in the country. She has trained NGOs throughout Central and Eastern Europe and FSU on issues related to NGO developement and democratization.
Ms. Inayeh's recent publications include "Ukraine and the EU: A Family Portrait" and "Moldova's window of opportunity".
She received her Bachelor's degree in Geology from the University of Bucharest and a Masters in Public Policy from the Woodrow Wilson School, Princeton University.