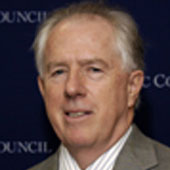 Asia Program Director, Atlantic Council
Banning Garrett is the Director of the Asia Program at the Atlantic Council, a position he has held since March 2009 (and previously from January 2003 through January 2007).
Before joining the Council in January 2003, he was a consultant for 22 years to the Department of Defense and other U.S. government agencies carrying on a strategic dialogue with China. He was also a senior associate at the Center for Strategic and International Studies and a founding board member of the U.S. Committee for Security Cooperation in the Asia Pacific (USCSCAP).
In addition, Dr. Garrett has also been the Director of the Initiative for U.S.-China Cooperation on Energy and Climate at the Asia Society's Center for U.S.-China Relations. He is the founding Executive Director of the Institute for Sino-American International Dialogue (ISAID) at the Graduate School of International Studies, University of Denver.
Dr. Garrett received his BA from Stanford University and his PhD from Brandeis University.