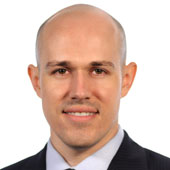 Energy and National Security Fellow, Council on Foreign Relations
Blake Clayton is an energy and national security at the Council on Foreign Relations in New York. Mr. Clayton joined CFR from Louis Capital Markets, where he was a senior oil analyst. He was a special assistant to Matthew R. Simmons, founder and chairman emeritus of Simmons & Company International, with whom he worked on launching Ocean Energy Group.
Mr. Clayton was a lecturer in finance and economics at Oxford University's Programme for Undergraduate Studies and was a researcher at the Oxford Institute for Energy Studies.
He received a doctorate from Oxford University, where he studied business economics and strategy. The recipient of the University of Chicago Endowed Fellowship, he holds dual master's degrees from the University of Chicago and Cambridge University.