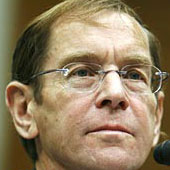 Author, "American Empire Before the Fall"
Bruce Fein is a nationally and internationally renowned constitutional lawyer, scholar and writer.
He was appointed as Research Director for the House Republicans on the Joint Congressional Committee on Covert Arms Sales to Iran from 1986-87 — and the General Counsel of the Federal Communications Commission from 1983-1984.
In 1981-1982, Mr. Fein served as Associate Deputy Attorney General in the U.S. Department of Justice and supervised the Department's litigation and vetting of candidates for the federal judiciary.
He has served as a Visitor Scholar for Constitutional Studies at the Heritage Foundation, an adjunct scholar at the American Enterprise Institute, and taught as an adjunct professor at George Washington University in Washington, D.C.
Between 1985 and 2009, Mr. Fein wrote weekly Commentary Columns for The Washington Times on legal and international issues.
He regularly appears on national television and radio, including MSNBC, FOX News, C-SPAN, BBC, Reuters, and NPR.
Mr. Fein graduated from Harvard Law School with honors in 1972.