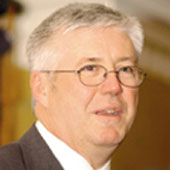 President, German Marshall Fund
Craig Kennedy has been president of the German Marshall Fund since 1995. He has helped expand GMF's programs in Central and Eastern Europe and the Balkans.
Expanding GMF's capacities as a public policy institution has been another of Mr. Kennedy's major achievements. Toward this end, he has provided GMF with a strong infrastructure throughout Europe, opening new offices in Paris, Bratislava, Brussels, Belgrade, Ankara, and Bucharest to complement the work being done in Washington and Berlin.
Mr. Kennedy began his career in 1980 as a program officer at the Joyce Foundation in Chicago. From 1983 to 1986, he was vice president of programs for Joyce. As president of the Joyce Foundation from 1986 to 1992, Mr. Kennedy built the Foundation's environmental program and launched a new program on U.S. immigration policy.
He left the Joyce Foundation to work for Richard J. Dennis, a Chicago investor and philanthropist. During this same period, he created a consulting firm working with nonprofit and public sector clients.
Mr. Kennedy serves on the Board of the nonprofit Thomas B. Fordham Foundation, the Rocky Mountain Institute, the European Foundation Center, and as an independent trustee of the Van Kampen mutual funds.