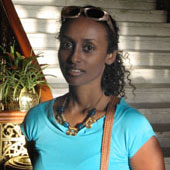 Human Rights and Conflict Management Specialist
Dalia Haj-Omar is a peacebuliding, human rights and conflict management expert with 10 years of international experience in the Middle East and Africa.
She has three years of project management, small grants design and monitoring and evaluation experience under USAID/OTI-funded projects in Sudan.
She has also worked with various international organizations and consulting firms including: Human Rights Watch, Doctors Without Borders, UNICEF, The World Bank, Chemonics and Development Alternatives Inc.
Ms. Haj-Omar speaks Arabic and English and is proficient in French. She holds an M.A. in International Development and Development Economics from Johns Hopkins University and an M.A. in International Peace Studies from the University of Notre Dame.