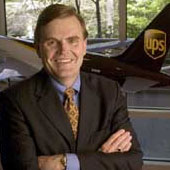 Chief Operating Officer, UPS
As chief operating officer for UPS and president of UPS Airlines, David Abney directs all operations worldwide and a sophisticated global transportation network, including the eighth largest airline in the world.
He oversees the pick-up and delivery of 15.8 million packages and documents daily to a service area that includes every address in the United States, as well as to over 200 countries and territories.
A native of Greenwood, Mississippi, Abney received his bachelor's degree in business administration from Delta State University. He began his UPS career in 1974 as a part-time employee loading and unloading packages.
Abney has held various positions throughout his UPS career, including division manager in New Jersey and district manager in Utah. He also served as president of SonicAir