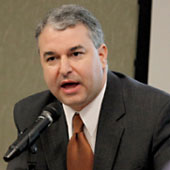 Vice President, EastWest Institute
David J. Firestein is vice president of the EastWest Institute, a nonprofit think tank that focuses on finding solutions for international conflict, where he leads EWI's China, Russia and United States programs.
A career U.S. diplomat from 1992 to 2010, Mr. Firestein is an expert in China, Russia, public diplomacy and U.S. politics. In his career in the U.S. Foreign Service, he served at the U.S. embassies in Beijing and Moscow. He speaks near native-level Chinese and fluent Russian and has interpreted for senior U.S. officials in both languages.
Mr. Firestein is the author or co-author of three books on China, including two China-published bestsellers: "Pacific Reflections: Essays on Chinese and American Society and Culture" (1997) and "Here and There: 81 Conversations about China and America" (2004). He has published about 130 articles in Chinese and Russian publications, including the Global Times, the China Youth Daily, the Legal Times, Novye Izvestia and other major periodicals.
Mr. Firestein taught U.S.-China relations and U.S.-Russia relations as an adjunct member of the graduate faculty at the University of Texas at Austin from 2006 to 2008. He was also the first sitting foreign diplomat to teach at the Moscow State Institute for International Relations (MGIMO), Russia's top university for foreign affairs and premier diplomatic training facility.
Mr. Firestein holds a bachelor's degree from Georgetown University in international relations and master's degrees from the University of Texas in public affairs and Asian studies.