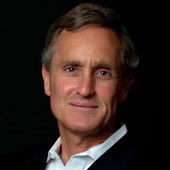 Professor of Foreign Policy, Georgetown University
Derek Leebaert, who has taught foreign policy at Georgetown University for 15 years, is a partner in the Swiss management consulting firm, MAP AG.
His previous books include "The Fifty-Year Wound: How America's Cold War Victory Shapes Our World" (2002) and "To Dare and to Conquer: Special Operations and the Destiny of Nations from Achilles to Al Qaeda" (2006).
Mr. Leebaert is also a coauthor of the MIT Press trilogy on the information technology revolution and a founding editor of International Security and The International Economy — as well as editorial board member of European Security.
He served in the U.S. Marine Corps Reserve and is a director of the U.S. Army Historical Foundation, Providence Hospital in Washington, D.C., and of other public service institutions.