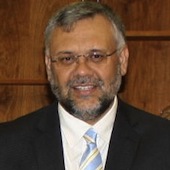 Ambassador of the Republic of South Africa to the United States of America
Ambassador Ebrahim Rasool is South Africa's Ambassador to the United States. His most recent positions have included Member of Parliament in the National Assembly, Special Advisor to the State President of the Republic of South Africa and Premier (governor) of the Western Cape Province.
Ebrahim Rasool has a long history of involvement in the anti-apartheid struggle, including leadership in the United Democratic Front (UDF) and the African National Congress (ANC). He spent time in prison and was under house arrest.
He has been involved in both the Islamic Movement and the Interfaith Movement. He has been active in mobilizing Muslims and the broader faith communities toward a deeper understanding of Islam and faith under conditions of oppression (under apartheid) and currently under conditions of globalization.
Ebrahim Rasool has built up extensive experience in Government, having led various Departments like Health, Welfare, Finance and Economic Development. As Premier of the Western Cape, he was instrumental in attracting foreign investment and making significant strides towards achieving the Millennium Development Goals (MDG's).
For his contribution to South Africa, Ambassador Rasool has been the recipient of a number of leadership awards. He is founder of the World for All Foundation that rethinks the intellectual tools available to Muslims and faith communities, and creates co-operative relations between faiths, cultures and communities at a global level.