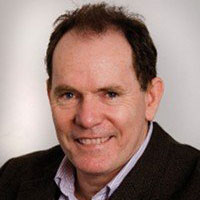 Journalist and Economic Consultant
Edmund L. Andrews is a journalist and consultant on economics who splits his time between San Francisco, Lake Tahoe and Washington, DC. A prizewinning correspondent for the New York Times for more than two decades, Mr. Andrews has reported in depth on topics ranging from technology and the launch of the euro to the financial crisis of 2008 and 2009.
For much of the 1980s, Mr. Andrews worked as a freelance journalist. After becoming a regular contributor to the New York Times, signed on as a full-time technology correspondent for the paper in 1991.
In 1996, he became the Times' European Economics Correspondent. Over the next six years, he covered the launch of the euro as a common currency, the post-communist transition of Eastern Europe, the disastrous merger of Daimler-Benz and Chrysler, and Europe's encounter with the dot-com bubble and bust.
Upon returning to Washington in 2002, he covered budget and tax policy, as well as the Federal Reserve and macroeconomics. In 2004, he was one of the first mainstream journalists to write about the explosion of subprime mortgage lending. When the financial crisis erupted in 2008, he intensively covered both the collapse of Wall Street and the bailouts orchestrated by the Federal Reserve and Treasury.
In 2009, he published Busted: Life Inside the Great Mortgage Meltdown (W.W. Norton), an intimate account that wove together his own mortgage crisis with the broader collapse.
From 2010 through 2011, he was a senior editor at National Journal in Washington. He went off his own in 2012 as an independent analyst and consultant for corporations and universities and non-profit clients around the country.
Mr. Andrews graduated magna cum laude from Colgate University in 1978 earned a master's degree in journalism from Northwestern University in 1981.