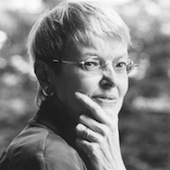 Journalist
Elizabeth Pond is a Berlin-based journalist and the author of several books on Germany, Europe, and the Balkans.
She was a foreign correspondent for The Christian Science Monitor for two decades in Saigon (during the Vietnam war), in Japan (when Nixon famously visited China), in the Soviet Union (during Brezhnev's age of stagnation) and in Germany (when the Berlin wall came down, the cold war ended and the two Germanys reunited).
She has also written for Foreign Affairs, Survival, International Security, the Washington Quarterly, the World Policy Journal, the Wall Street Journal, Internationale Politik, Die Zeit and other magazines and newspapers. From 2000-2005, she was the first editor of the English edition of Internationale Politik.
In academic sabbaticals, she has taught at the Bologna center of the Johns Hopkins School of Advanced International Studies, Simmons College, Principia College and Bonn University.
Her books include From the Yaroslavsky Station (London: Gollancz and New York: St. Martin's, 1981, 1984, 1985 and 1988); Beyond the Wall: Germany's Road to Unification (Washington, D.C., Brookings), The German Question and Other German Questions (written with David Schoenbaum, Basingstoke and Stuttgart, Macmillan and DVA, 1996 and 1997); The Rebirth of Europe (Brookings, 1999 and Propylaeen, 2000); Friendly Fire: The Near-Death of the Transatlantic Alliance (Brookings, 2004); and Endgame in the Balkans: Regime Change, European Style (Brookings, 2006).