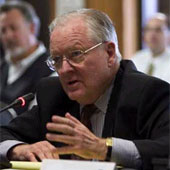 Senior Fellow for Trade and Productivity at Manufacturers Alliance/MAPI
Ernest H. Preeg has been senior fellow for trade and productivity at Manufacturers Alliance/MAPI since 2002. He is a career foreign service officer and was a member of the U.S. delegations to the Kennedy and Uruguay Rounds of trade negotiations.
He also served as Deputy Assistant Secretary of State for International Finance and International Development and White House Executive Director of the Economic Policy Group. In addition, he served as the American Ambassador to Haiti.
Since his retirement from the Foreign Service, he held the Scholl Chair in International Business at the Center for Strategic and International Studies (CSIS) and was Senior Fellow at the Hudson Institute. He holds a Ph.D. in economics from New School for Social Research.