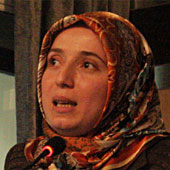 Lawyer and Women's Rights Activist
Fatma Benli holds a degree from Istanbul University's Faculty of Law. She is currently pursuing her Master's degree in private law in Marmara University, in Istanbul, after previously having to suspend her studies when the government began enforcing a ban on wearing head scarves at public institutions.
Ms. Benli was profiled by the New York Times in 2008 for her role to have the ban annulled. Ms. Benli owns a law practice that focuses on cases of family law, business law and Land Action. She acts as a legal expert on business cases.
Ms. Benli also serves as Turkey's representative at the International Jurists Union. She has written several books and articles on women's rights, freedom of speech and violence against women. She was included in Georgetown University-Center for Muslim-Christian Understanding's list of the world's 500 most influential Muslims.