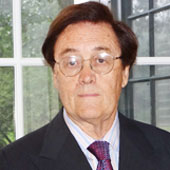 Founder and President of Strategic Economic Decisions
Horace "Woody" Brock is the founder and president of Strategic Economic Decisions, an economic forecasting and consulting firm. He has been a consultant to global corporation and other institutions on ongoing structural changes in the global economy.
He is the author of American Gridlock: Why the Right and Left Are Both Wrong (Wiley, 2012).
Mr. Brock earned his B.A., MBA and M.S. degrees at Harvard University. He holds an M.A. and Ph.D. from Princeton University.