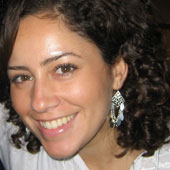 Former Features Editor, The Globalist
Ms. Chmela started her career as a member of The Globalist's editorial staff, where she worked as our features editor from 2003 to 2005. Subsequently, she worked as a news assistant in the Washington Bureau of The New York Times. Her articles have appeared in newspapers around the world.
She earned a B.A. degree at American University, in Washington, D.C., in print journalism and political science.
In her free time, Ms. Chmela enjoys reading, spending time outside, traveling to far-off lands and drinking mint tea.