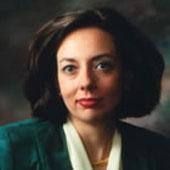 Professor of International Commerce and Policy, School of Public Policy, George Mason University
Janine Wedel is Professor of International Commerce and Policy at the School of Public Policy at George Mason University — and Author of "Shadow Elite: How the World's New Power Brokers Undermine Democracy, Government and the Free Market" (Basic Books).
She has also taught at the University of Pittsburgh, George Washington University, Georgetown University — and as a Fulbright Professor at Warsaw University and Catholic University of Lublin in Poland.
In addition, Ms. Wedel has been the Director of Research Development and Senior Research Associate at Ridgway Center, Senior Research Fellow at the New America Foundation, Fellow at the National Institute of Justice, a Research Scholar at the Woodrow Wilson International Center for Scholars, International Trade Analyst for the U.S. International Trade Commission — and a visiting researcher for the Institute of Sociology in Warsaw, Poland.
She has a Phd from UC Berkeley, an MA from Indiana University in Bloomington — and a BA from Bethel College. She is fluent in Polish and German and has a working knowledge of Russian and French.