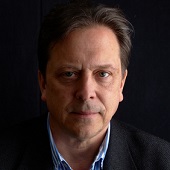 Journalist and author
Jefferson Morley began his career in journalism with internships at Metropolis, a weekly newspaper in Minneapolis, the Worthington Daily Globe, the Minneapolis Tribune, the Washington Post and Foreign Policy magazine.
In 1983, he joined the staff of Harper's and later moved to the New Republic, where he published "I Was a Contra for the CIA," the the first definitive expose of the Central Intelligence Agency's covert role in supporting Nicaraguan counterrevolutionaries in violation of a Congressional prohibition.
Mr. Morley was named Washington correspondent for the Nation in 1987. After a brief stint writing about music and politics for Spin, he returned to the Washington Post as an assistant editor for Outlook. After eight years, during which he also worked in the Metro and Style sections, he moved to washingtonpost.com as a columnist and world news editor.
In 2007, he become editorial director of the non-profit Center for Independent Media (CIM), a network of six online news sites, including the Washington Independent, Iowa Independent, Michigan Messenger, Minnesota Independent, Colorado Independent and New Mexico Independent.
He published Our Man in Mexico: Winston Scott and the Hidden History of the CIA (University Press of Kansas, 2008). After leaving CIM in 2009, he wrote Snow-Storm in August: Washington City, Francis Scott Key, and the Forgotten Race Riot of 1835 (Nan Talese/Doubleday, 2012).
Mr. Morley has taught at Boston University, Georgetown University and the District of Columbia public schools.