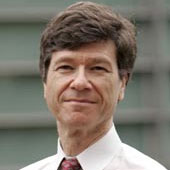 Director, Earth Institute at Columbia University
Jeffrey Sachs is director of The Earth Institute at Columbia University and was a special advisor to United Nations Secretary-General Ban Ki-moon on the Millennium Development Goals.
Mr. Sachs has advised governments in Latin America, Eastern Europe, the former Soviet Union, Asia and Africa on economic reforms, and he has worked with international agencies to promote poverty reduction, disease control and debt reduction of poor countries.
Prior to joining Columbia, Mr. Sachs spent over 20 years at Harvard University, most recently as director of the Center for International Development.
He is the author of many scholarly articles and books. Mr. Sachs was recently elected into the Institute of Medicine and is a Research Associate of the National Bureau of Economic Research.
A native of Detroit, Michigan, Mr. Sachs received his B.A., M.A. and Ph.D. degrees from Harvard University.