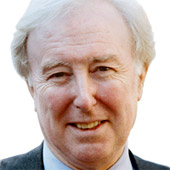 Senior Fellow at Hudson Institute
John O'Sullivan is Executive Editor of Radio Free Europe/Radio Liberty, setting editorial vision and direction for the organization.
He has served as a senior editor at the London Times and the Daily Telegraph, and as a special adviser to Prime Minster Margaret Thatcher. He helped found the Canadian daily, the National Post.
Mr. O'Sullivan has also been editor-in-chief of United Press International and editor of the magazines The National Interest and National Review. Most recently, Mr. O'Sullivan was a senior fellow at the Hudson Institute in Washington, D.C.
His recent book, "The President, the Pope, and the Prime Minister," has been translated into Polish, Czech, Spanish and Portuguese.