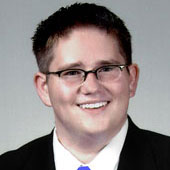 Student, University of South Dakota
Jonathon Walz is currently a senior at the University of South Dakota majoring in Political Science and Economics. His academic interests include Middle Eastern politics and Arabic language.
In addition to his undergraduate institution, he has studied at the London School of Economics and Political Science and at locations throughout the Middle East.
A two-time recipient of the David L. Boren National Security Education Program Scholarship, Jonathon has completed two intensive Arabic language study programs at the American University in Cairo's Arabic Language Institute.
Most recently, he was awarded a 2007 U.S. Department of State Critical Language Scholarship to study advanced Arabic in Sana'a, Yemen.
He has successfully completed internship programs at The Globalist and at Adfero, a London-based news service.
Jonathon is currently writing his undergraduate honors thesis on the political economy of qat — a narcotic shrub cultivated in Southern Arabia and the Horn of Africa.