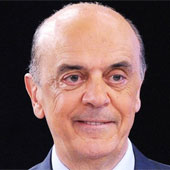 Governor of São Paolo State, Brazil
José Serra is a Brazilian politician and current Governor of São Paulo state. He is a former congressman, senator, minister of Planning and Minister of Health, and mayor of São Paulo. He ran for the presidency of Brazil in 2002, losing to Luiz Inácio Lula da Silva.
Serra holds a Ph.D. in economics from Cornell University.