Author
Kate Phillips-Barrasso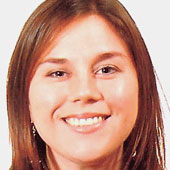 Director of Government Relations and Advocacy, International Rescue Committee
Kate Phillips-Barrasso is the Director of Government Relations and Advocacy for the International Rescue Committee (IRC), a leading humanitarian organization responding to crises in over 40 countries around the world.
She helps guide the IRC's work to draw attention to global humanitarian needs and advocate for policy change that will assist refugees forced to flee war and disaster. She oversees the organization's relations with Congress, the Executive Branch and other NGOs on a number of humanitarian situations, including those in Asia and the Middle East.
Prior to joining the IRC, Ms. Phillips-Barrasso worked for several years as a Senior Policy Advisor with CARE, leading the organization's policy and advocacy efforts on humanitarian and development issues. She also worked for the United Nations Development Programme's Millennium Campaign, drawing the attention of policymakers and the public to efforts to meet the Millennium Development Goals.
Ms. Phillips-Barrasso is a Council on Foreign Relations Term Member and a Truman Security Fellow. She holds a Master's degree in international development from George Washington University and a B.S. from the University of California at Berkeley.