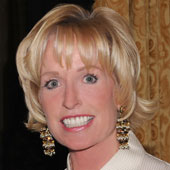 Founder and CEO, Institute for Education
Kathy Kemper is founder and CEO of the Institute for Education, a non-profit foundation that recognizes and promotes leadership and civility locally, nationally and in the world community. It also educates youth for global citizenship in an increasingly connected world.
Called Washington's "Networker in Chief" by U.S. News and World Report, she also founded INFO, a program of IFE. INFO is a roundtable public affairs forum that draws diplomats, influential public officials, senior media and business leaders from both sides of the aisle for debate and discussion.
A former professional tennis player, Coach Kemper served as head Women's Tennis Coach at Georgetown University from 1978 to 1990. She coached Georgetown's No. 1 player to a four-year undefeated match play streak and to the Big East and NCAA National Woman's Division II title in 1983.
She is a sought-after speaker on issues from Title IX and gender equity to her unique, insider's view of Washington. She has spent 25 years coaching tennis to Washington's powerbrokers and opinion makers — Supreme Court Justices, members of the United States Congress and United States Secretaries of State through four administrations.
She is on the Board of Trustees of the Washington International School and has been awarded numerous Woman of the Year honors from various groups. She was named the Prince Sporting Goods' Woman of the Year and received recognition from the National Association of Women in Business.
A frequent op-ed writer and columnist, her work has been featured in The Hill, USA Today, Roll Call, The Washington Examiner, The Bangkok Post, Vietnam Daily, Hanoi Times, Hürriyet Daily News and Newsday.
Ms. Kemper lives in Rancho Santa Fe, California and Washington, D.C.