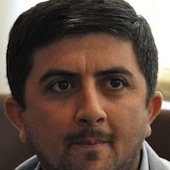 Journalist, Yeni Musavat (Azerbaijan)
Kenan Rovshenoglu has been a journalist covering the Middle East for the Azerbaijani opposition newspaper Yeni Musavat since 2005.
Born in Tartar, Azerbaijan, Mr. Rovshenoglu is a graduate of Baku University with a degree in fine art and literature. He also studied Arab literature and Islamic issues in Damascus, Syria.