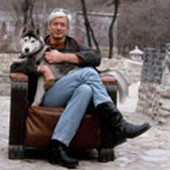 Activist and mediator
Laurence Brahm is a global activist, international crisis mediator, political columnist and author.
He has served as interlocutor between Beijing and the 14th Dalai Lama, and with Nepal's Maoists during the peace process.
A lawyer and economist by profession, he served as advisor to the governments of China, Laos, Vietnam, Cambodia and Mongolia. He focused on financial, banking and enterprise reform throughout the 1990s and advocated practical solutions to development as alternatives to those espoused by the Washington Consensus.
Since 2002, he has worked in the Himalayan plateau evolving new models of sensitive cultural and eco-tourism development through heritage restoration of boutique inns, pioneering micro-equity projects for marginalized women and handicapped, together with rural medical and education outreach programs.
With his stature in the region, he is considered as one of the pillars of the Himalayan Consensus. He is a founder of Shambhala, a social enterprise committed to action for ethnic diversity and cultural sustainable development.
The author of over 20 books on the Asian region, his work covers a wide spectrum from economic development reform in China and Southeast Asia, to Tibetan new age travel. His most recent book is Anti-Globalization Breakfast Club: Manifesto for a Peaceful Revolution.
He is also the author of Zhu Rongji and the Transformation of Modern China and China As No. 1 (all published by John Wiley). His books on Tibet include Searching for Shangri-la: Off the Beaten Track in Western China and Conversations with Sacred Mountains: A Journey along Yunnan's Tea Caravan Trail.
He is a columnist and commentator for the South China Morning Post and ReviewAsia.
At present, in partnership with Tianjin Satellite Television, Brahm is co-directing and co-hosting a United Nations/UNDP endorsed program called Green China (2009). It is a media campaign to raise awareness of the challenges and dangers of global warming within China.