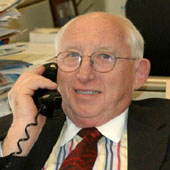 Host and Executive Producer, "White House Chronicle"
Llewellyn King is the host and executive producer of "White House Chronicle" — a news and public affairs program airing on PBS and public access television channels nationwide, and on XM Satellite Radio.
He is also a nationally syndicated columnist.
A journalist for more than 50 years, Mr. King has worked for Time, London's Daily Mirror, the BBC, The New York Herald Tribune — and The Washington Post.
Prior to the 1973 energy crisis, he founded The Energy Daily — the flagship of King Publishing Group, his newsletter publishing company, whose other titles included Defense Week and New Technology Week.
Mr. King has commented on a range of subjects for the "NewsHour with Jim Lehrer," NPR, CNN, C-SPAN and Voice of America.
He is the author of "Washington and the World — 2001-2005," a collection of his op-ed columns distributed by Knight-Ridder Syndicate and published in newspapers throughout the United States, including The Miami Herald, The San Diego Union-Tribune, The Columbus Dispatch and The Providence Journal.