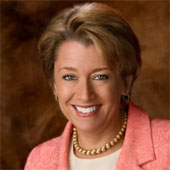 Director, Public Citizen's Global Trade Watch
Lori Wallach is director of Public Citizen's Global Trade Watch, which monitors the World Trade Organization and international trade agreements.
She has testified on NAFTA, GATT-WTO and other trade issues before over 30 U.S. Congressional committees, numerous other countries' legislatures, the U.S. International Trade Commission and the Office of the U.S. Trade Representative.
She has served as a trade commentator on CNN, ABC, CNBC, C-SPAN, CNBC, Fox, Bloomberg, PBS, NPR and numerous foreign outlets and been published and quoted in publications such as the New York Times, Wall Street Journal, Washington Post, USA Today, Financial Times, Associated Press, Los Angeles Times and more.
Ms. Wallach is the author or co-author of "Whose Trade Organization? Corporate Globalization and the Erosion of Democracy" (1999), "Whose Trade Organization? A Comprehensive Guide to the WTO" (2004) and "The Rise and Fall of Fast Track Trade Authority" (2011).
Ms. Wallach is a graduate of Wellesley College and Harvard Law School.