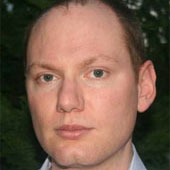 Assistant Professor at Cornell University's School of Industrial & Labor Relations
Louis Hyman is an assistant professor in Cornell University's School of Industrial and Labor Relations. He has written extensively on the impact of debt on U.S. society.
A former Fulbright scholar, Mr. Hyman received his Ph.D. in American history in 2007 from Harvard University. His dissertation received the Harold K. Gross Prize for best dissertation in history at Harvard and the Krooss prize for best dissertation in business history nationally. The disertation became the basis for Debtor Nation: The History of America in Red Ink, which was published by Princeton University Press in 2011.
His second book, Borrow: The American Way of Debt, was published by Vintage in 2012.
Mr. Hyman attended Columbia University, where he received a BA in History and Mathematics. He has also worked as a consultant for McKinsey & Company.
Author photo by Laura Dandaneau