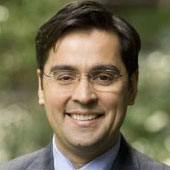 President of the Ford Foundation
Luis Ubinas is president of the Ford Foundation, the second-largest philanthropy in the United States with more than $10 billion in assets and $500 million in annual giving. The foundation operates worldwide and has offices in Asia, Africa, and Central and South America.
Since taking leadership at Ford in 2008, Mr. Ubinas has focused on increasing the participation of poor and marginalized individuals and communities in the economic, social and political opportunities afforded by their societies. He has focused on how new technology and social media can reshape the way nonprofits deliver results for those they serve. To maximize the resources available to grantees, he also led the restructuring of the foundation's operations and endowment management.
Prior to joining the Ford Foundation, Mr. Ubinas was a director at McKinsey & Company, leading the firm's media practice on the West Coast. Much of his work focused on the opportunities and challenges represented by the growth of Internet and wireless technologies.
Mr. Ubinas is a graduate of Harvard College, where he was named a Truman Scholar, and Harvard Business School, where he graduated with highest honors. He is a Fellow of the American Academy of Arts and Sciences and a member of the Council on Foreign Relations.