Author
Marcel Fortuna Biato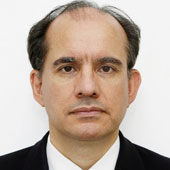 Brazilian Diplomat
Marcel Fortuna Biato is a career diplomat. He entered the Brazilian diplomatic service in 1981.
Mr. Biato served as political officer at the London Embassy (1987-90) and the Consulate-General in Berlin (1990-1994). He also served as legal advisor to the country's Mission to the United Nations (1999-2002).
In the Foreign Ministry, he has covered Latin American and military issues, having been advisor to the Brazilian principal during the Peru-Ecuador peace negotiations (1995-1998). Since 2003, he has been an assistant to the President of Brazil's chief foreign policy advisor.
In the academic field, he did undergraduate work at the Universities of Canberra and Brasilia and holds a Masters in Political Sociology from the London School of Economics (1989). He has published articles on Latin American politics, Brazilian foreign policy, global governance, the International Criminal Court and the Law of the Sea.