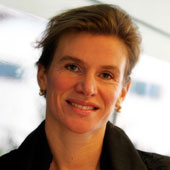 Author of "The Entrepreneurial State" and R.M. Phillips Professor in the Economics of Innovation, University of Sussex
Mariana Mazzucato is R.M. Phillips Professor in the Economics of Innovation at the University of Sussex, in the United Kingdom.
Her research focuses on the theoretical and empirical relationship between innovation, growth and finance. Her book The Entrepreneurial State: Debunking Public vs. Private Sector Myths (Anthem Press, 2013) argues that in innovation the state has not just fixed market failures but actively created the vision and invested in the most risky and uncertain areas.
Before her appointment at Sussex, she was a professor of economic innovation at the Open University. Prior to that, she had posts at the London Business School and the University of Denver.
She is the coordinator of a large research project in the EC's Seventh Framework Programme on finance innovation and growth. She is also the economics director of the ESRC Centre for Social and Economic Research on Innovation in Genomics.
Her research is funded by the Ford Foundation and by the Institute for New Economic Thinking. She is an active policy advisor in the areas of innovation and industrial policy, both in the UK and abroad.
Ms. Mazzucato received her B.A. from Tufts University in history and international relations a Ph.D in economics at the New School for Social Research.