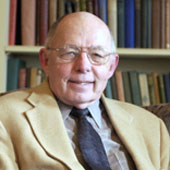 Professor of Theology, Princeton University
Max L. Stackhouse (July 29, 1935 – January 30, 2016) is Princeton Theological Seminary's Rimmer and Ruth de Vries Professor of Reformed Theology and Public Life.
He also chairs the Seminary's Religion and Society program. He is ordained in the United Church of Christ and is president of the Berkshire Institute for Theology and the Arts.
Mr. Stackhouse specializes in theological ethics and social life, Christianity and the ethics of the world religions, and public theology and the mission of the churches.
He teaches courses on the place of faith in educational life, the theological implications of the arts, religion and journalism, and theology in relation to the environment.