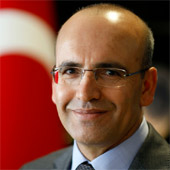 Finance Minister of Turkey
Mehmet Şimşek was appointed as the Minister of Finance in May 2009, after having served as the Minister of Economy for almost two years. He was elected to Parliament in July 2007 and June 2011, representing the Justice and Development Party (AK Party).
Before entering politics, Mr. Şimşek worked for Merrill Lynch in London for seven years as chief economist and strategist for emerging markets in Europe, the Middle East and Africa.
From 1998 to 2000, he was a senior economist and bank analyst at Deutsche Securities. Earlier in his career, he worked for UBS Securities in New York (1997) and as a senior economist at the U.S. Embassy in Ankara (1993-97).
Mr. Şimşek holds a B.S. in economics from Ankara University and went on to work as research assistant in its International Economics and Economic Development Department. He received a State Scholarship to Exeter University, where he earned his M.Phil. in finance and investment.