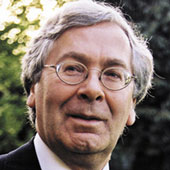 Governor of the Bank of England
Mervyn King is Governor of the Bank of England and is Chairman of the Monetary Policy Committee. He was previously Deputy Governor from 1998 to 2003, and Chief Economist and Executive Director from 1991. Mr. King was a non-executive director of the Bank from 1990 to 1991.
Born in 1948, Mervyn King studied at King's College, Cambridge, and Harvard (as a Kennedy Scholar) and taught at Cambridge and Birmingham Universities before serving as Visiting Professor at both Harvard University and MIT. From October 1984 he was Professor of Economics at the London School of Economics where he founded the Financial Markets Group.
Mervyn King is a Fellow of the British Academy, an Honorary Fellow of King's and St John's Colleges, Cambridge and holds honorary degrees from Birmingham, City of London, Edinburgh, London Guildhall, London School of Economics and Wolverhampton Universities.