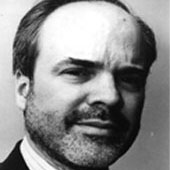 Chief Correspondent, National Journal Group
Michael Hirsh is chief correspondent for the National Journal Group.
He previously served as the senior editor and national economics correspondent for Newsweek, based in its Washington bureau. He was also Newsweek's Washington web editor and authored a weekly column for Newsweek.com, "The World from Washington."
Earlier on, Mr. Hirsh was Newsweek's foreign editor,He has done on-the-ground reporting in Iraq, Afghanistan, and other places around the world — and served as the Tokyo-based Asia Bureau Chief for Institutional Investor from 1992 to 1994.
He has appeared many times as a commentator on Fox News, CNN, MSNBC, and National Public Radio. He has written for the Associated Press, The New York Times, The Washington Post, Foreign Affairs, Harper's and The Washington Monthly. He has published the books "Capital Offense: How Washington's Wise Men Turned America's Future over to Wall Street" and "At War with Ourselves: Why America Is Squandering its Chance to Build a Better World."
Mr. Hirsh has received numerous awards, including the Overseas Press Club award for best magazine reporting from abroad in 2001 and for Newsweek's coverage of the war on terror, which also won a National Magazine Award.