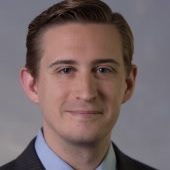 Deputy Publications Director, Economic Policy Institute
Michael McCarthy is deputy publications director at the Economic Policy Institute, a think tank in Washington, D.C. Before that, he held a series of positions at The Globalist, including features editor and managing editor. Prior to joining The Globalist, he worked on Senator Tom Daschle's 2004 re-election campaign.
Mr. McCarthy holds a master's degree in public administration from The George Washington University, where he also graduated summa cum laude with a bachelor's degree in political communication.
A native of Dallas, Texas, his areas of interest include politics, international affairs, economics and media studies.