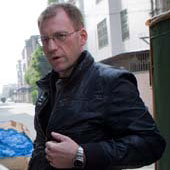 Freelance Journalist
Michael Standaert is a freelance journalist currently based in Shenzhen in South China, after having spent three years based in Beijing.
Mr. Standaert primarily covers environmental policy and infrastructure developments for the Bureau of National Affairs, the organization he is accredited with in China. He has also freelanced from China for The San Francisco Chronicle, The Washington Times, Inter Press Service, China International Business Magazine and Knowledge@Wharton.
Mr. Standaert's current focus is on news out of South China, Hong Kong, Indonesia and Malaysia and on developments throughout the South China Sea region.
He also produces a free aggregated news service called "China Notebook" distributed via e-mail and updated at his website. For more, visit: www.michael-standaert.com or write to: michael.standaert@gmail.com.