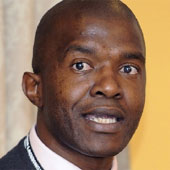 Professor of International Political Economy at the University of Pretoria
Mzukisi Qobo is a professor of international political economy at the University of Pretoria. He writes a weekly column for Business Day, South Africa's national business daily.
Mr. Qobo previously served as chief director at the South Africa's Department of Trade and Industry (DTI), where he drafted the country's trade policy and strategy framework. He also led the Emerging Powers and Global Challenges Programme at the South African Institute of International Affairs (SAIIA), where he worked on the involvement of the BRICS in Africa.
He completed his Ph.D. at the University of Warwick, in the United Kingdom. He has a Master's degree from the University of Stellenbosch and a B.A. from the University of Cape Town.