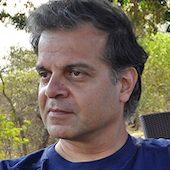 Namit Arora is a Delhi-based writer, humanist and travel photographer.
Arora chose a life of reading and writing after cutting short his career in the Internet industry. Raised in north India, he lived in Louisiana, the San Francisco Bay Area and Western Europe, and travelled in scores of countries before returning to India over two decades later in 2013.
Arora writes essays, reviews, criticism, travelogues, fiction, memoir and history, often merging many forms at once, and has tackled subjects as diverse as identity politics, artificial intelligence, erotic temple art, eating animals and cryptocurrencies.
His videography includes River of Faith, a film on the Kumbh Mela. His photography has been licensed by scores of organizations. Some years ago, he also led the drafting of Delhi's solar energy policy and led a task force on air pollution.
Arora is the author of three books: (1) Indians: A Brief History of a Civilization, (2) The Lottery of Birth: On Inherited Social Inequalities, and (3) the novel A California Story (US) / Love and Loathing in Silicon Valley (India). For more about him, visit shunya.net.