Author
Nontyatyambo Petros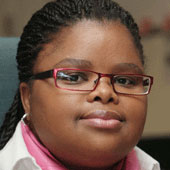 Deputy Editor, Business Report
Nontyatyambo Petros is the deputy editor of Business Report. Prior to this she spent two years at Financial Mail, first as special projects editor and later as a commissioning editor.
She started her media career as a web journalist, working as assistant editor for Metropolis, a now-defunct subsidiary of Primedia, before joining Business Day as online news editor.
She later became a financial writer and labor correspondent for Business Day. In 2003, she left the newspaper to join Grocott's Mail, a community newspaper based in Grahamstown, where she was editor.
Petros has attended a United Nations fellowship for journalists and broadcasters and presented papers at various national and international conferences.
She graduated from Rhodes University in 1996, with a joint honours degree in journalism and media studies and industrial sociology. Last year she studied towards a post-graduate diploma in business administration at the Gordon Institute of Business Science.