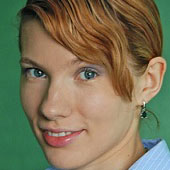 Co-Founder and Chief Executive Officer, Global Education Leadership
Olena Tregub is the co-founder of Global Education Leadership and serves as its chief executive officer. GELead offers professional traineeships and study-abroad programs for young North Americans in Poland, Ukraine and Costa Rica.
She has previously worked as a U.S.-based foreign correspondent for the Ukrainian News Agency and Kyiv Post. Her publications on Ukrainian domestic and international politics have also appeared in OpenDemocracy, Foreign Policy Journal, OpEdNews and Fletcher Forum of World Affairs.
In New York, she worked as an adjunct professor of political science at Adelphi University and as a media liaison at the United Nations headquarters.
She holds an M.A. in political science from the Central European University of Budapest and a Master's degree in international affairs from the Fletcher School of Law and Diplomacy at Tufts University.