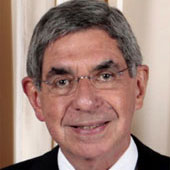 President of Costa Rica (1986-1990 and 2006-2010)
Oscar Arias was president of Costa Rica from 1986 to 1990 and from 2006 to 2010.
In 1987, He was awarded the Nobel Peace Prize for his efforts to establish a lasting peace throughout Central America. He used the monetary award from the prize to establish the Arias Foundation for Peace and Human Progress in 1988.
He studied law and economics at the University of Costa Rica. In 1974, he received a doctoral degree in political science at the University of Essex, England.
Photo credit: Lawrence Jackson/White House