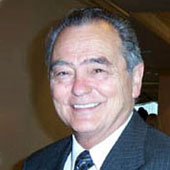 Editor of HispanicVista.com
Patrick Osio is the Editor of HispanicVista.com — an Internet weekly publication — and writes a weekly column. His articles are distributed by Knight Ridder Tribune News Service to over 400 newspapers throughout the United States.
During his 40 years in the U.S.-Hispanic and Mexican communities, Mr. Osio authored a monthly column, The Connection, for the San Diego Metropolitan Magazine. For over 15 years, he was a consultant to the private and public sector on trans-border business and economic affairs. He is a frequent lecturer on U.S.-Mexico issues and a frequent guest on radio talk shows.
Hispanic Media selected him as one of the 100 best Hispanic Journalists in the United States in 2002. In 2003, Hispanic Media selected Mr. Osio as one of the 50 Most Influential Hispanic Journalists in the United States. Also in 2003, the California Chicano News Media Association (CCNMA) honored Mr. Osio with the La Pluma Lifetime Achievement Award.
His articles have appeared in such newspapers as the Los Angeles Times, the Miami Herald, The Houston Chronicle, Detroit Free Press, San Diego Union-Tribune, El Paso Times, The New Mexican and numerous others as well as in leading newspapers in Mexico.
Mr. Osio was born in California. He lived — and attended schools — in Mexico City and Los Angeles, California. He has lived in San Diego, California, since 1982 with his wife of 41 years.