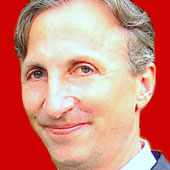 Chairman & CEO, China First Capital
Peter Fuhrman is Chairman & CEO at China First Capital, a boutique investment bank focused on China's private entrepreneur-led businesses. He was previously a founder and CEO of Awareness Technologies in California.
Mr. Fuhrman is a frequent speaker at conferences on private equity and IPO market in China, as well as columnist for Chinese publications Forbes China and 21st Century Business Herald.
He spent his early career as a journalist and European bureau chief for Forbes Magazine.
He has lectured at UCLA's Anderson Business School on entrepreneurship, private equity and venture capital. He enjoys cycling, and is an avid collector of antique Chinese and Tibetan art.
Mr. Fuhrman holds a Masters from Cambridge University.