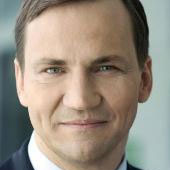 Poland's Minister of Foreign Affairs
Radoslaw Sikorski was sworn in as Minister of Foreign Affairs of the Republic of Poland on November 16, 2007.
Mr. Sikorski was elected senator for Bydgoszcz in 2005, and served as Minister of National Defense in 2005-2007. In 2007, he was elected to the Lower House of the Polish Parliament (the Sejm) from the Civic Platform party.
From 2002 to 2005, he was resident fellow at the American Enterprise Institute, in Washington, D.C., and executive director of the New Atlantic Initiative. He was editor of the European Outlook and organized international conferences on topics such as UN reform and the 25-year anniversary of the Solidarity movement.
He has appeared before the U.S. House of Representatives Committee on Foreign Affairs as an expert on Atlantic issues. He is a member of the Board of Advisors of the American Committees on Foreign Relations.
As Deputy Minister of National Defense in 1992, Sikorski initiated Poland's NATO entry ambitions. In 1998-2001, he served as Deputy Minister of Foreign Affairs and Honorary Chairman of the Foundation for Assistance to Poles in the East.
Mr. Sikorski headed the students' strike committee during the unrest in Bydgoszcz in March 1981. He was granted political asylum in Great Britain in 1982-89. He was a war correspondent in Afghanistan and Angola in 1986-89. He won the World Press Photo award in 1987 for a photograph taken in Afghanistan.
Mr. Sikorski is the author of several books, including "Dust of the Saints," "The Polish House: An Intimate History of Poland" and "The Commie-Free Zone."
He is a graduate of the University of Oxford with a B.A. and M.A. in politics, philosophy and economics.