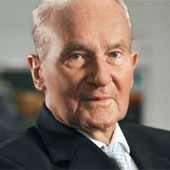 Former owner of Bertelsmann and the author of "A Global Lesson"
The late Reinhard Mohn was the owner of the German media conglomerate Bertelsmann. In five decades under his leadership, Bertelsmann grew to be one of the world's leading media companies.
He was the founder of the Círculo de Lectores (Reading Club) in Spain in 1962 and was awarded Premio Príncipe de Asturias in Communication and Humanities in 1998.
Mr. Mohn was an honorary member of the Club of Rome. He was also the founder of the Bertelsmann Foundation in 1977.
He received an honorary doctorate from the University of Münster.
Mr. Mohn passed away on October 3, 2009 and is survived by his wife, Liz Mohn, and their six children.